What I Want You to Know is a series
of reader submissions. It is an attempt to allow people to tell their personal stories, in the hopes of bringing greater compassion to the unique issues each of us face. If you would like to submit a story to this series,
click here
. Today's guest post is by
Seth Tearz.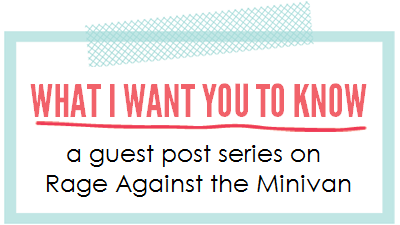 Almost one year ago my 4-year-old son, Jax, died in a drowning accident. This is my story about my struggle with faith and an unexpected source that helped me believe in a heaven again.
When Jax died everything changed. I used to pray every morning in the shower. Almost every single day I'd end by asking for God's protection for my wife and kids. I prayed the same thing on June 24th when Jax died. On June 25th, I stopped praying.
What's the point? I was just wasting my breath. You know when your spouse gets so mad at you that they ignore you for a couple of days? That was me towards God. Except it lasted months. He was around, but I didn't want to talk to him. I know, we live in a broken world, yadda yadda yadda. Shit happens. I didn't care. I was beyond pissed. Now, I know there's human element involved with life and death, and consequences occur, and it's not all on God. I'm not discounting any of that. But if He can't protect my kid, then what's the point of any of this?
A few days after he died, or after the memorial service – I don't remember which – I started to question heaven's existence. What if there is no heaven? Will I ever see my boy again?
I grew up in a Christian family and attended a non-denominational Christian church all of my life. I was raised to believe that you died and went to heaven if you accepted Jesus as your Lord and Savior. What if the Bible is just a book of mythological stories, and when we die, nothing happens? I felt alone. Everything I believed in before June 24th shattered like a glass bowl on the kitchen tile. Tiny shards shot every which way, and I'm walking barefoot, trying to pick up the pieces. But it hurts. I keep stepping on the shards. I'm bleeding. And I'm overwhelmed.
I read books like Heaven is For Real and 90 Minutes in Heaven. Those didn't help.
And then I found comfort in an unexpected place. I felt peace for the first time in months. Peace that I would see Jax soon and that he was still with me. Peace that he is okay and in God's hands.
———————————————————————–
"Who here lost a young boy that drowned?" Theresa asked as she stood at the front of the stage with her platinum blonde hair and flashy disco ball-like high heels, which now function for me similarly to the green light at the end of Daisy's dock for Gatsby.
No one answered, so she inquired again. My heart pounded. My face felt sort of numb.
"In this section, right here. Someone lost a young boy that drowned." With her arms extended straight and parallel, she pointed at our section.
Holy shit, this is happening. Everything I wished for is happening. My wife and I raised our hands in unison. But we were five levels up from the stage, sitting in the second to last row of the theater.
SHIT.
Towards the end of last summer, with encouragement from a friend and a thirst for something, anything that would help me believe in heaven again, I watched an episode of Long Island Medium. For those that don't know, the show follows a medium from Long Island, Theresa Caputo, as she helps the living communicate with loved ones that have crossed over (died).
I recorded any episode I could find on my DVR and watched alone. Whereas I was okay sobbing while soaking up some gut-wrenching episodes, my wife wasn't ready to watch. My skepticism reminded me that this was a TV show. It's cool to believe Caputo could really communicate with the dead and bring comfort and closure to the living, but what if it's just all for show?
I continued to watch with an open mind, and Caputo continued to blow me away with her episodes. Her ability to bring up specific details she could never know with love and positivity while at the same time giving honor to God hooked me. A practicing Catholic, Caputo walks a curved line of traditional Christian beliefs and alternative spiritual theorem. She mixes in a typical Italian New Yorker stereotype and a charming naivety that warms the soul.
What if is this is true? Then I will see Jax again. He is walking with me. He knows my sorrow, my guilt and how much I miss him.
This show brought me peace. It gave me hope at a time when I had nothing.
About six weeks ago, our friend, who is a big fan of the show and wrote in to TLC to get us on the show for a reading, texted me that Theresa Caputo was coming to the west coast. She found available tickets at the Cerritos Center for the Performing Arts. I asked my reluctant wife if she wanted to go on June 6th, our tenth wedding anniversary. Romantic, huh? A few hours later I bought tickets at the back of the theater, the only ones left.
The theater seats 1,700 people spread across five floors with box seating that flanks the main stage. Our seats were on that fifth level, to the right of the stage if facing it and in the second to last row. Binoculars would've been appropriate.
The night before I spoke to Jax for about 10 minutes. Typically I cry when I talk to him, but that night I felt calm. I matter-of-factly explained what we were doing and that this woman Theresa could speak with him. I advised that there were going to be a lot of people there that wanted to speak with their passed loved ones, and that he needed to push his way to the front to reach Theresa. I asked him to be strong, because his mom and I ache to hear from him.
My wife and I picked up our friend and met my mother-in-law in Cerritos for the show. The venue, a beautiful site which I highly recommend checking out an event, was packed with middle age women, which shot my blood pressure up and required soothing deep breaths to keep from elbowing the ones that couldn't seem to figure out that I was standing against a wall so that they wouldn't walk in to me.
Caputo started the show praising God for her gift, explaining how she operates and curbing our expectations for the night. She told us Spirit was ready to work earlier than she expected so she got right to it.
"Who here lost a young boy that drowned?" That's how she opened the whole freaking thing. There's 1,697 other people in here, I'm sure she's not just speaking to us, I thought. Then she asked that second time. What the shit? I'm stuck up here in the boonies. Short of jumping off the balcony, she wasn't going to see us waving our hands.
Caputo moved on to other spirits communicating to her. About 45 minutes later, after moving around the lower level of the theater followed by a camera man and microphones, Spirit led her to ask who had a necklace with a thumb print. I didn't think much of it until no one raised their hand, that I saw at least. I looked to my left and saw my mother-in-law tugging the chain around her neck. At the end was a flat charm with Jax's thumb print. I totally forgot she had that keepsake.
What the hell is happening? Is my little boy, the first loved one to step forward, trying for a second time? Is he fighting for us? I felt helpless.
"Does anyone have an anniversary of some kind today?" Caputo inquired. Oh c'mon! My wife raised her hands, both of them. Just before the show I snacked on a sandwich in the parking lot and our friend snapped a photo of my wife and I sharing our "anniversary dinner" and posted it on Facebook. Again, no one else said it was their anniversary.
This can't be coincidence, can it? I mean, it can, I guess. We're showing up desperately hoping to hear from Jax. I could turn around a lot of things Caputo said that night to relate to us so that I felt better. But these three things were too specific. And NO ONE ELSE affirmed her messages.
I believe it was Jax. I have to. That's what faith is, right? Belief that isn't based on proof.
As far as Caputo goes, I utterly believe everything she did that night is true, real and a gift from God. It's impossible to know much of the stuff she asked the audience as their loved ones communicated with her. She nailed the dead's personality to a tee, knew about tattoos hidden behind clothing and detailed some horrific ways that loved ones died.
I believe it was Jax that night. I believe he made it through all of those other loved ones passed on and up to Caputo first. He knows what it means for my wife and I to hear from him. He knows how much we need it.
I have to believe. Without belief there's no hope, and that green light at the end of Daisy's dock fades to darkness. I lived in darkness enough over the past year. I need that light.