What I Want You to Know is a series of reader submissions. It is an attempt to allow people to tell their personal stories, in the hopes of bringing greater compassion to the unique issues each of us face. If you would like to submit a story to this series, click here. Today's guest post is by Amy Vogel.
I want people to know that our daughter having cancer was the most important thing to ever happen to us. It changed us for the better – but not just us. Our family, our friends and people around the world we will never meet. Our middle daughter (we have 3 now) – Sophia (6, about to be 7 but going on 24 or however old Taylor Swift is) is about to hit 2 years in remission. On 10/10/10, we went to the hospital because she was seeing double, after thinking her left eye was looking strange for a few days. Turns out, there was a soft-tissue sarcoma growing between the muscles and next to the bone. Even though every medical professional will tell you pediatric cancer is rare, Sophia's kind was an 1 in 11 million shot. Those odds increased because kids almost never get this type and it never manifests in the eye. She went through 11 months of chemo, with inpatient rounds every 3 weeks, 6 weeks of radiation, more blood and platelet transfusions I can count and hundreds of doctors appointments. She lost nearly 25% of her body weight. She wore hats because she hated her bald head, until one day, out of the blue, 5 months after it started growing back, she didn't want to any more. Now, you would never, ever know. I praise God every day for that fact. He healed her, by guiding us to the right treatment place and carried us all the way through.
We are on the opposite end of that daily battle for health and sanity. What I learned is there are a few basic responses when they find out about her cancer (even to this day). People either cry, go silent, talk way too much or listen. The first groups makes it all about them. It's beyond exhausting when you are on the brink of a panic attack to be gracious, but I learned how. I learned how to comfort them in the midst of my desert of pain. Yes, I had to reassure them. 80% of people fall into this category.
But the last group – oh, those people are a blessing. It is a rare gift to be comforted with nothing required in return. Those people who will just listen, hug and offer to help. The others will offer but I've found they don't'/can't/won't. They are scared, for whatever reason. Being around you and your child makes them uncomfortable. Heck, it made us uncomfortable, but it was our reality. We had to adapt and those, in the last group, adapted along with us. They are the brave ones.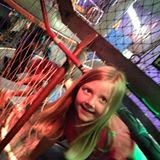 You want your readers in that group. Pediatric cancer is rare, but it's not that rare. It's not as rare as the American Cancer Society would lead you to believe. And when you encounter a family whose child has cancer, it's important to know how to respond. To quote St. Francis of Assissi- "Preach the Gospels everyday and only if you have to…use words." When you offer to help, already be committed to doing it. Don't force it. Be kind. Pray and let them know you are praying and keep praying, long after they are done with treatment. Send/bring gifts for the siblings and practical things (like notebooks, pens, crossword puzzles, gas cards, etc) for the parents.. Donate to pediatric cancer research organizations. Wear their "Team" t-shirts. Don't disappear. Don't apologize. Send them funny cartoons. Text and email regularly. Join their FaceBook page. Don't tell them your stories unless you really know what they are going through. Ride from Austin to Alaska to raise money for cancer research (the daughter of our-then principal did that, with "Do it for Sophia" written all over her the whole time.)
Don't suggest they feed their 4 year old pot brownies to ease the nausea (although we are still laughing about that one!)
Cancer wasn't the best thing to happen to our family, but it changed us for the better. We are closer and our faith is so much stronger. We haven't lost our sense of humor, we might in fact be funnier because we know what real joy is. We have known real comfort and it has made us want to share it. We want everyone to know this battle is real and it can be won – just by loving where you are and doing what you can.