What I Want You to Know is a series of reader submissions. It is an attempt to allow people to tell their personal stories, in the hopes of bringing greater compassion to the unique issues each of us face. If you would like to submit a story to this series, click here. Today's guest post is by E. Chauvin.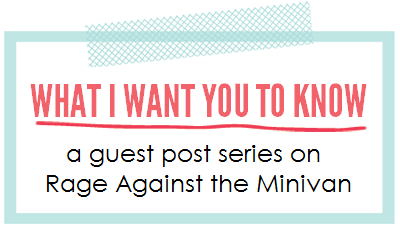 I want to talk about the circumstances around the conception of my two year old. First let me state, I'm a member of the Church of Jesus Christ of Latterday Saints. (Or Mormon if you prefer). My husband is not.
When we first started dating, our love grew fast. We met on the 6th of February 2010, our first date was the 12th and we knew we were in love by Valentine's day. During this whirlwind romance, it didn't take long for us to realize we really had something rare. We fell into step with one another despite not having too many interests in common. We just fit. We were engaged officially on April 18th with plans to marry the next year in September. On July 10th 2010, we found out I was 4 weeks pregnant.
We told my parents (who we were living with at the time) and my dad's first words were "So! When's the wedding!?" For those of you who don't know, the Mormon church, like most other Christian churches is against pre-marital sex and those who partake in it are supposed to seek counsel. My mom offered many times to set up an appointment to go speak to the bishop. I declined because I didn't see a reason to. I felt as if we hadn't done anything wrong. Eventually the little good Christian voice in my head got the best of me and I found myself in my Bishop's office blurting out "We're pregnant!". This was NOT met with any sort of congratulations. Instead we were met with a series of questions as to our plans. Financially, spiritually and physically.
I wasn't asked how I was doing. If this was something we were planning on in the future. We were told that these "unfortunate circumstances can be worked out."
We told the bishop our plans to be married in the next year. He urged us to move it up as soon as was possible to ensure the baby was going to be raised inside the bonds of marriage. We did move that wedding date up. And we both regretted it. It was rushed and planned totally by my mother. It wasn't for us. It was for everyone else in hopes that the 6 months left until the baby was going to come would be enough time to make everyone forget that she was conceived outside of wedlock.
We were also urged to continue counsel with the bishop and to seek repentance for this egregious sin. We were continually met with a barrage of "unfortunate circumstance" statements about the baby. It made me feel ashamed. It made me feel angry at myself for allowing myself to have sex before marriage. It made me feel resentment towards the man I loved because he didn't share the exact same views I did. In no way was I ever pressured by Jason to have sex. It was a choice we both made.
That child's conception was NOT an unfortunate circumstance. She was conceived in love by two people who had made promises to each other to spend the rest of forever together whether or not there was a marriage certificate to prove it.
What I want you to know is that I love the church. I believe in God. I love my savior. But I will not be made to feel less than for making a choice that was not in line with doctrine.
I will not feel ashamed for choosing to show my love to my future husband. I will not hide the story of her conception from her if she asks in the future. I can hope she will know that she was conceived in an act of love and not in some "unfortunate" way.
I want her to know that I love her no matter how and when she chose to come to this earth. I am just glad she chose me.
I am many things. A mother, daughter, teacher, friend. I am a sinner but also so are my parents and so is that bishop. No one is perfect and no one should feel ashamed for choosing to bring a child into this world. No one should be made to feel less than for any reason. I want you to know it wasn't easy but I've made my peace. I've moved on in life and am so grateful every day that her spirit chose me.
Her conception was the greatest blessing I've ever received.