Four years ago, Birkenesh was at the end of her rope. She had five young children and her husband had just died of AIDS. She was HIV positive and her health was declining. She had no means of supporting herself, and her HIV status meant that the community saw her as an outcast. Meals were scarce. Her children were beginning to starve. And she made the difficult decision to place one of her children, her daughter, in an orphanage.
This is a tragedy that plays out all too often in impoverished countries. "Poverty orphans" . . . it's a term that refers to children who are abandoned for no reason other than economic hardship. Orphanages provide a way for desperate parents to give their children an education and regular meals. Unfortunately, it also means that children are raised outside of their birth family. In most cases, it means institutionalized care, and sometimes it also means that the child will be adopted into a family in another country. All because the parent did not have resources to care for that child. Today, Birkenesh's oldest is no longer in an orphanage. She lives at home with her family. The difference for this girl vs. the other children still in the orphanage is simple: her family is enrolled in Help One Now's program to support children living with their families . . . a program that prioritizes family care over orphanage care. It sounds like a simple solution, but unfortunately orphan care usually only addresses vulnerable children at the institutional level after a child has been abandoned. Help One Now is trying to do things differently.
Today our second day on the ground in Ethiopia. Yesterday we had the chance to meet with Aschalew Abebe, the local leader that Help One Now partners with in this country. We've all been blown away by Aschalew . . . he is hilarious and brilliant and full of experience. He holds a master's degree in community development and is passionate about child welfare. He talked about what he believes to be best practice for vulnerable kids, and so much of what he said resonated with me. Achalew has been involved in running a children's home for many years. He quickly became discouraged as he watched local families bringing their kids to the orphanage in search of a better life for them. He also become discouraged as he watched children becoming orphans because their parents were unable to get help. He decided to do things differently. Achelew believes that orphanages should be a triage situation, and that children should be cared for in families whenever possible. To this end, the children's home he works with holds the value that kids should not spend longer than 18 months in an orphanage. The value for orphan care is as follows:
If possible, seek reunification within the birth family.
If reunification is not possible, seek an adoptive family within Ethiopia.
Work to prevent orphans by resourcing families before abandonment or parental death happens.
This last part, the prevention part, is the focus of our trip. Help One Now wants to prevent children from being orphaned in the first place by resourcing at-risk families to keep their children. Aschelew grew tired of watching local families abandon their kids in his community, so he identified 150 of the most at-risk families in Gunchire in an attempt to provide support for families at the brink of "poverty orphans." A year ago, Birkenesh's family was one of the first in the program. Today, we sat in her living room as she shared how this program has changed her life.
Today, Birkenesh has all of her children living with her. They can now eat every day. She has no fears that she will need place one of her children in an orphanage for their survival. She has received training in business and a loan to start her own shop, where she and her daughter now work. She has a milk cow and received agricultural training and help with creating her own garden. She is receiving ARV meds, and she reports that her community is now welcoming to her since there has been more education on HIV/AIDS.
She is emphatic about how this help has changed her life . . . so much so that she tears up as she thanks us. We tell her that we think she is brave and amazing, and we mean it. When Help One Now first started working with Ethiopia, they had a value to serve orphans . . . but they now realize that a vital step in orphan care is orphan prevention. There are so many families like Birkenesh's in this region . . . so many families on the brink. So many mothers making hard decisions. So many children being separated from their families because of poverty. Help One Now has been the difference between being an orphan and a daughter for Birkenesh's children.
In the next few days, we will be learning more about how Help One Now is assisting families and preventing poverty orphans. We'll also be meeting with a few more families eager to share their stories. To read more about the trip and to sponsor a family, click here. You can also follow our hashtag on twitter and instagram at #lovehope.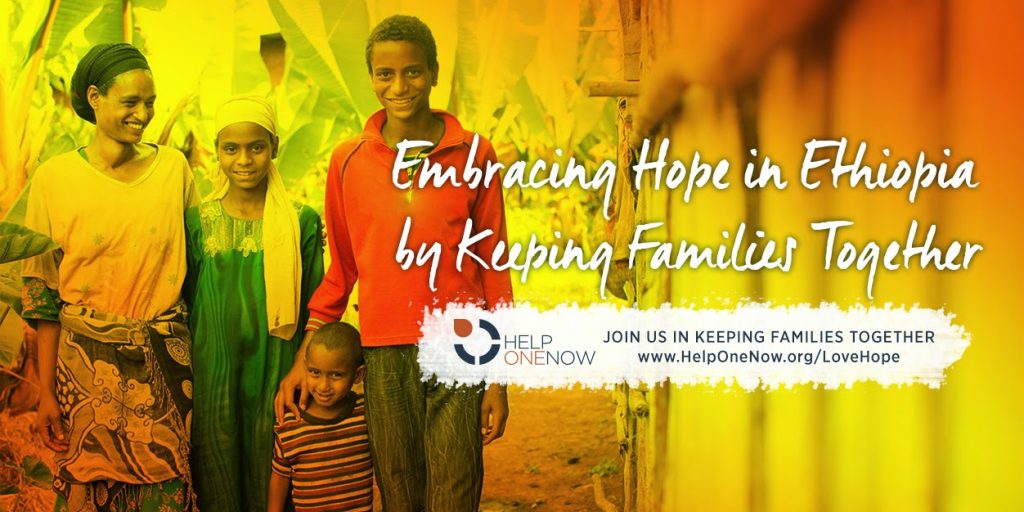 Photos by Ty Clark and Scott Wade.