Our never-ending adoption process from Haiti had one benefit, and that is the fact that we developed some amazing relationships with people who are serving there. Haiti is a very difficult place to try to effect chance, because the issues there are so overwhelming. However, in the midst of that, we have friends who have seen a need, and are working hard to meet a need in that corner of the world. That need is maternal health.
Maternal health isn't something I gave much thought to previously. Like many middle-class moms in the U.S., my biggest concern in birthing children was making sure they were healthy, but I wasn't worried about having a competent doctor or safe hospital experience. Those were a given.
As I learned more about what my friends were doing in Haiti, I learned that the dangers of giving birth in Haiti are great. You can read about it in
this
news story. Haitians suffer the highest maternal mortality ratio in the Western Hemisphere, by far. Millions of Haitian women either cannot access health care, or cannot afford it. Those who can't afford it are often left to go it alone. Even those who can afford it are often treated in conditions that are unimaginable here in the US.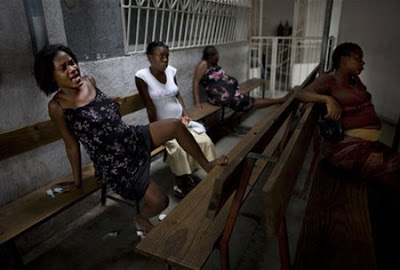 These pictures depict one of the maternity wards in Port-Au-Prince. When I first read this article, I was expecting with Karis. I remember thinking about India's birth, and how I was surrounded by professionals in a clean, private room, and how it was still a scary and overwhelming experience. I can't imagine what these women must go through. And again . . . these are the women fortunate enough to have access to care.


My friends who run
Heartline Haiti
offer a very different experience for the Haitian women in their program. Each week the Heartline prenatal program sees twenty pregnant women. Most of them have never received pre-natal care. When it comes time to deliver their babies the women can come to the birthing center to have their baby.
(photos from Beth McHoul and Tara Livesay)
Heartline offers women in Haiti a safe, clean, peaceful and loving place to experience labor and delivery with trained midwives to assist the ladies throughout their labor and delivery. This should be a given to all women, regardless of where they live, but unfortunately it's not the case. No woman should die giving life, yet every day 800 women around the world die from complications related to pregnancy and childbirth. Most of these deaths are preventable. And this isn't simply a problem in developing nations. Here in the U.S., the number of deaths from complications of pregnancy and childbirth has more than doubled in the past 20 years.
To try to tackle this issue, Merck created
Merck for Mothers
– a 10-year, $500 million initiative to help address maternal health globally. You can visit
MerckforMothers.com
or Merck for Mother's
facebook page
or
twitter page
to learn more.
Next week, I will be attending a symposium with Merck for Mothers to learn more about what they are doing. I resonate very deeply with the need for women to feel supported and cared for during pregnancy, so I'm looking forward to finding out more.