Unfortunately I was not blessed with low-maintenance hair. My hair is thick and intermittently wavy (more like wrinkled than curly) and when left to it's own devices, insanely frizzy. It's also pretty gray, which means it is wiry and brittle. (And color-treated). As such, I'm always on the hunt for good products.
First of all, pomade. I must have some kind of pomade/smoother/serum in my hair to keep it tame. I've tried numerous products of this sort and just recently found my favorite. It's the hair and skin oil from Enjoy. It's made with Argan oil but it's not goopy. A little goes a long way, and it doesn't get greasy if I skip a wash.
Speaking of not washing my hair, I am in love with Dove's dry shampoo. It's one of the few that doesn't turn my hair white or make me sneeze from a weird scent. And it's CHEAP.
Another inexpensive product I adore is Aussie's 3 Minute Miracle conditioner. I've been using this stuff since high school, and I still love it. (It's also my favorite for detangling my boys' hair . . . it's good great "slip.") I use that as conditioner most days, and usually use Pantene Daily Moisture shampoo.
Gone are the days of my youth when hair spray was meant to defy gravity. Anyone else use Aqua Net back then? I swear, the carpet in front of the vanity in my bedroom was nearly cemented from all of the Aqua Net I sprayed on those bangs. I still use a little hairspray but now I use Paul Mitchell's clean shaping spray, because it's really light and flexible and . . . basically the opposite of Aqua Net.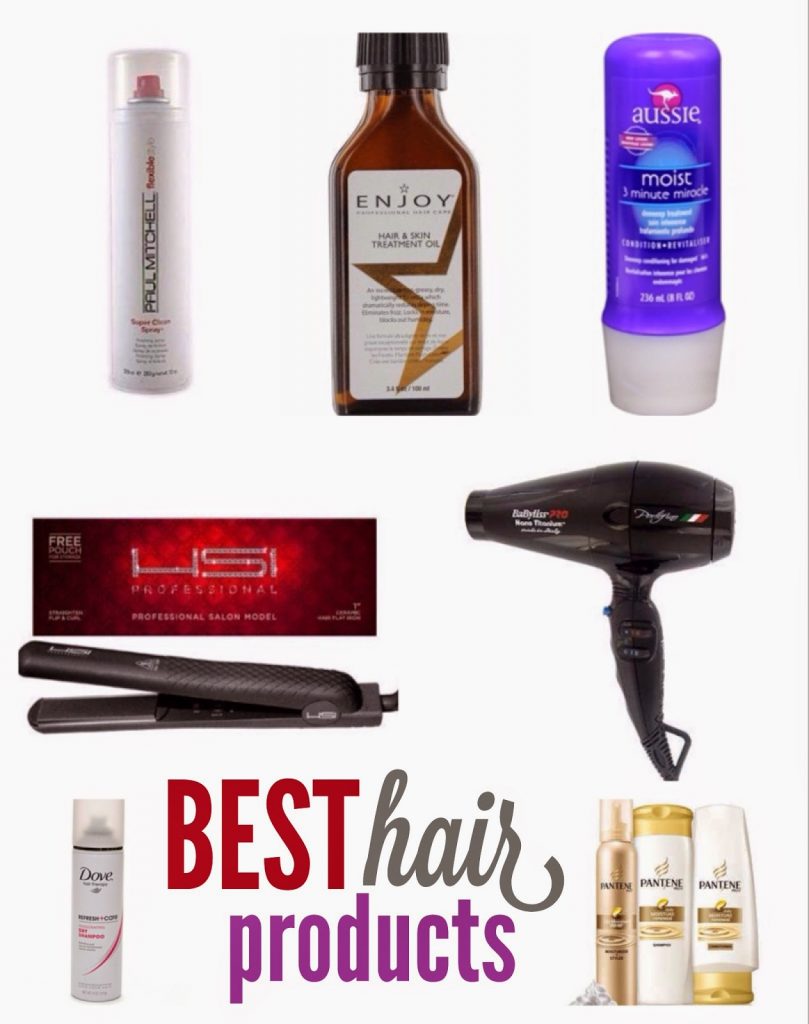 .
I use a flat-iron most days, and the HSI iron is my favorite. My stylist insisted I buy this one, and I have to say, it really is amazing. It's pricey but it is majorly on sale at Amazon right now – so much that I bought a second when I saw the price drop. This is great for straightening but I also use it to curl my hair, too. (For how to do this, see Sarah's tutorial.)
Hair dryers . . . I have never spent money on these. I usually buy whatever is cheapest at Target. But just last week I happened upon the raving Amazon reviews for this Babyliss hair dryer. People were going on and on about how great it was and how it dries the hair in half the time, so I decided to splurge and try it. I am here to tell you – totally worth it. It really does dry my hair faster and with less frizz, and I'm finding I don't even need to flat iron.
How about you? What do you usually use on your hair? Are there any products I need to know about?