What I Want You to Know is a series
of
reader submissions. It is an attempt to allow people to tell their
personal stories, in the hopes of bringing greater compassion to the
unique issues each of us face. If you would like to submit a story to
this series,
click here
. Today's guest posts is by Samuir.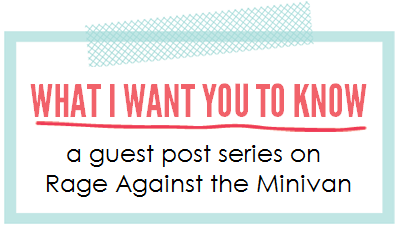 My name is Sarah. My husband Brent and I have five children.
Our
first 3 children were born into our family in the "traditional" way.
Our second 2 children were born into our family through the foster care
system. We have been a foster family for almost one year now. We have so
much yet to learn, but so much to share.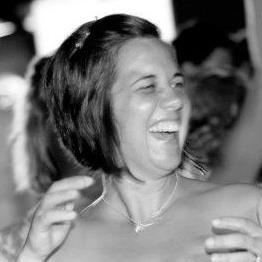 How did we get here? It
started with my job. My job involves going into peoples' homes to work
with their children. I kept seeing kids in really bad situations and
would want to literally bring them home with me. Also, I have worked
with some really awesome foster families that were so inspiring to me.
Brent and I talked about being foster parents ever since our third
child, Olivia was born. We debated whether to have a fourth child,
whether to adopt, whether to foster, or whether to call our family
complete with 3 kids. We tossed around the idea of foster parenting for
almost 6 years. We talked to each other about it, we researched it, we
talked to our children, we talked to other families and we prayed about
it.
Foster parenting seemed to be something we were both really
interested in, but we weren't sure about taking that first step. Our
next "nudge"came around the time that my mom passed away. When my mom
was diagnosed with breast cancer and then leukemia, people would ask
her, "do you ever think, why me?" Her response was always "why NOT me?".
This always stuck with me. If she could say "why not me?" about
sickness and health, about life and death, then certainly I could say
"why not me?" about lots of things in my life.
Brent and I started to
re-visit the idea of foster parenting, saying "Why not me? Why not us?"
When mom passed away in June 2010, I was struck by the brevity of life.
In my mind, the time to make a difference became now rather than later.
In November of 2010, we contacted the Bair Foundation for more
information. We could have immediately begun the process, but still had
some reservations. Our final push came in the early spring of 2012. We
came to church one Sunday and heard about the 'Not For Sale' campaign.
We listened to the stories and watched the videos of enslaved children
all over the world. Brent was particularly moved by this campaign and
approached me about initiating the foster care training. We felt that
although we could not travel the world to rescue children, we could, in
fact, rescue children right in our own home. Our home could be our
mission field. We contacted the Bair Foundation the very next day and
began our training shortly after.
What does it take to be a
foster parent? It takes a whole lot of love, patience, flexibility,
support and faith. This being said, if I were to write a book on my
experience with foster parenting, the title would be: "It DOES NOT take a
special person to be a foster parent. It takes an ordinary person who
is willing to say 'yes'." I don't believe that God leads strong and
special people to take on the huge challenge of being a foster parent. I
do believe that He gives ordinary people strength and blessings once
they make the commitment, once they say "yes". One of the first things
that I noticed after becoming foster parents, was the perception that
foster parenting is like an other-worldly, mythical profession.
Something that is for other people. People constantly say things like "I
could NEVER do that", "you are so special", "it takes a special person
to do that". Granted, these statements are complimentary, and
well-intended, but there is this underlying notion that most people
cannot be foster parents. I want people to know that everyday, ordinary
people, like us, can in fact do this.
The hardest thing
about being foster parents. Obviously, parenting is hard to begin with.
Parenting five young children is particularly challenging. However,
there are special challenges with foster parenting. We put our blood,
sweat and tears into raising our children, with faith that they will
grow into responsible, loving adults. The assumption with raising our
biological or adopted children is that we will get to reap some of the
benefits of our hard work. With foster parenting, we invest the same (or
more) hard work, with the assumption that someone else will reap the
benefits. In the true model of foster care, the goal usually is for
children to return to their biological home. We are doing the hard work
of parenting, giving the children skills and tools for living, and we
may or may not ever know how things turn out.
The power of
being a foster parent. It's one thing to see orphaned children from
another country on TV. And it's really easy to say: "I'd take them home
if I could". Because you can't. It's a completely different ball game
when you actually CAN take them home with you, or decide not to. It's
really huge, when you get a phone call asking you to take a child, or
children. Your "yes" or "no" can change that child's life that very day.
On Friday July 8th, 2011, we got our foster parent certificate in the
mail. Less than 30 minutes later (seriously), the phone rang, it was the
Bair Foundation. They wanted to know if we would take a 1 year old girl
and a 3 year old boy. We said yes. A few short hours later they were
our children and we were their parents. Between the time we woke up that
morning and the time we went to bed that night, we had added two
children to our family. What an awesome, awesome day that was. We got
another call a few weeks ago, asking if we would be interested/able to
take in 3 siblings. Permanently. They were 1, 3 and 9 years old. We were
faced with a decision that night, whether to become parents to these 3
children. Forever. If we would have said yes, they would have been at
our house within a day. Forever. We didn't say yes, because we felt it
was more than we could take on right now. So we went to bed that night,
knowing that these 3 children were still without a family. There is such
a need.
What I wish everyone knew, understood and
respected. The children in our home are our children. Maybe for now.
Maybe forever. It's not "our children" and "the foster children". It was
so cool to go to Florida, where no one knew us and be able to say
"these are our 5 children". Period. We have committed to being their
parents. It's more than giving them food, shelter and a home. It's about
giving them a family and relationships. It's pretty easy and natural to
take in and care for children. But, it's pretty scary to take the next
step and really pour out your whole heart. It is a seemingly dangerous
and scary proposition to put your whole heart out there for someone that
might not be with you in a few months or a year. But isn't that how it
is with any relationship? God places people in our lives for as many
days as He sees fit. We have no guarantee that any of our loved ones
will be around tomorrow. Yet people say all the time "What if you have
to give these kids back?". "I would get too attached". Just as we don't
hold back our love for our spouses, or our biological children because
they may not be here tomorrow, we don't hold back our love for these
children either. We love all of our children everyday, with our whole
hearts, for as many days as they are with us.
Isn't foster
parenting too stressful? What about the effects it has on your family
and other children? Yes it's stressful. The safety and well being of all
of our children is always our first priority. We would never put any of
our children at risk by taking on a challenge too big to handle. Are
there issues? Yes. We are constantly evaluating our situation and
decisions, making sure that we have the best interest of our kids as our
primary concern. We want our children, all of them, to grow up with
service in their hearts. To learn to share the blessings that we as a
family have with others. To open their hearts and minds to people of all
walks of life. Through all the challenges, we have seen our family grow
closer together as we all learn to expand our family, home and hearts.
The blessings of being a foster family. First and foremost, it is an
amazing feeling to know that we are able to give these children a loving
and stable family. These kids have overcome so many hurdles and
obstacles in such a short time and it's amazing to see the progress
they've made. The inherent goodness in being able to be such a huge
influence in a child's life is the biggest blessing and reward you could
ask for. However, aside from this, our family has been blessed in some
other pretty cool ways. Because of C's medical needs, he was granted a
wish from the Make a Wish Foundation. Our entire family had the
opportunity to go on an all-expense paid vacation to Disney World. This
is something we would have never been able to do on our own. We have
been blessed with support and encouragement from our community. We have
had amazing opportunities, met wonderful people and had really great
experiences through the Bair Foundation.
Faith. Everything
about foster parenting is uncertain. Almost everything about foster
parenting is out of your control. We are their parents for now, but any
number of things could change that. The biological parents'
progress/behavior/decisions, the judge's rulings, any number of
circumstances could occur that would change everything. It is so
critical for us to have faith that God does have a plan in this. Maybe
the plan is for us to give the kids the tools they need to return to
their biological parents. Maybe the plan is for them to stay with us. We
have to have faith in a plan that is unknown to us. In addition to
having faith that the big things will work out, we also have to have
faith that the little things will work out. There are days where there
is no joy in parenting. Days that it is all hard work. Days when one
child is screaming, one is puking, two are fighting and one is dumping
cheerios on the living room floor. Again. On those days, when everything
seems to be hard work, we have to have faith that we can do this. We
have to remember and honor our commitment to parenting. We did not enter this to bring
ourselves joy, peace or self-gratification. We entered this to
make a difference in the lives of children. Having faith carries us
through the everyday challenges of parenting and also helps us see the
big picture.
A final word of encouragement. There is much to be
considered when deciding whether to become a foster family. It is
certainly not for everyone. If you have come to a point where you are
ready to "make the call", I urge you to not let your fear stop you.
Brent and I talked and thought and prayed about this for 6 years. We
knew it was in our hearts to do this. We knew that it was God's will.
But we had to overcome the fear of the unknown and have faith that it
would work. If you have it in your heart to say "yes",God will help you
work out the details. Don't be afraid to love. Loving a child, even for
one day, is worth it. Don't be afraid to make a difference.