The post was sponsored by Trulia, but the dilemma about where to settle down is all my own.
Over the past ten years, I've had a growing sense of discontent about the neighborhood we live in. It's a fine neighborhood by all accounts. We've lived here for 10 years now (our new house is just around the corner from our previous home). We've gotten to know our neighbors and the kids are happy enough. But there are some aspects about it that concern me as well. Our current neighborhood is situated in a triangle, bordered by two freeways and a very busy street. The busy street is populated primarily by car dealerships and rent-by-the-week motels (with more liquor stores and shady massage parlors than I'd like). It's one of the more crime-ridden streets in our town, and definitely not a street where I would want my kids to walk around unattended. While we live within walking distance to the schools, the business of the streets and close proximity to freeways mean that I would never let the kids walk there alone.(Yesterday, my husband's instagram account illustrated some of the other aspects of our neighborhood we don't love.) And if we wanted to ride bikes as a family or take a nature walk, we would need to get in our car and drive there. We're socked in by traffic and concrete. There are few trees in our neighborhood and the nearest park is also a popular destination for our town's homeless population. And while I don't begrudge their right to rest and relax in a public place, a park populated by adults is not an appealing destination for kids. As I'm describing our neighborhood it sounds pretty rough, but there are also many things that initially drew us to the neighborhood. The houses were built in the 50s and have a ton of character. Our neighborhood has both racial and economic diversity. If the Orange County of the reality shows is Newport Beach, our town is the tattooed younger brother. We've got tons of indie stores, hip restaurants, and vibey bars. We are close to the performing arts center and to the airport. The beach is a quick four miles away . . . close enough that we don't need an air conditioner because there is a constant breeze.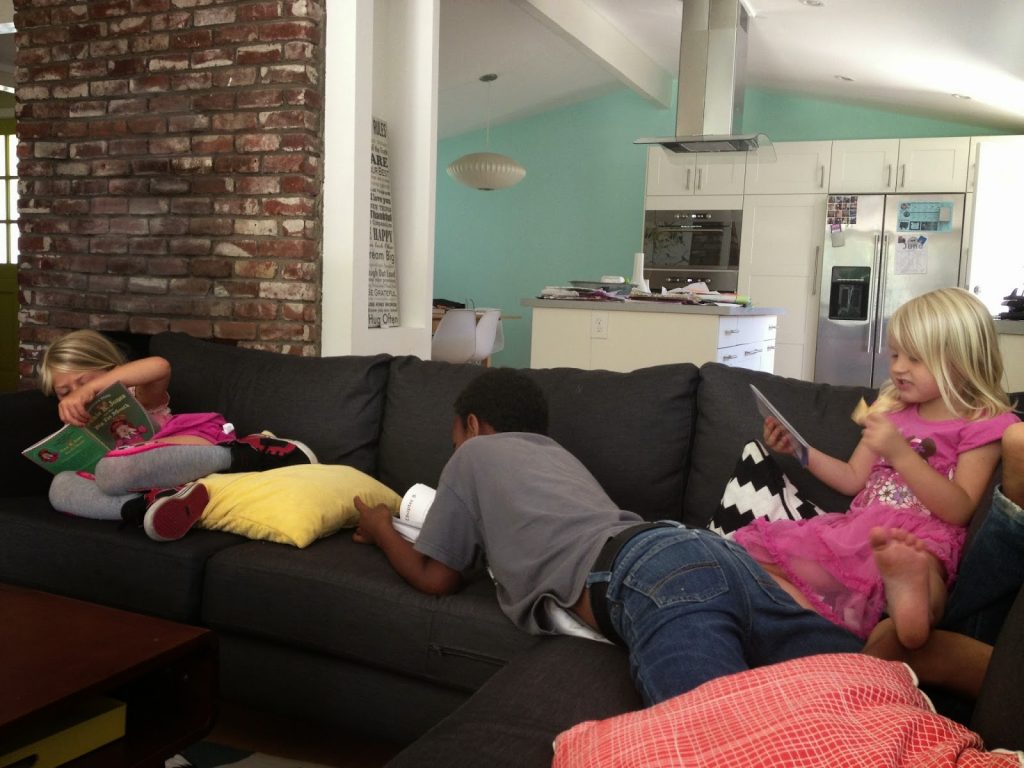 However, some of the things that drew us to this neighborhood as a childless 20-something couple are the very things that are causing us to question where we live now. All those tattoo parlors that made the town seem edgy? The fact that there is an urban hustle and bustle? The wide variety of strange and off-beat people? None of those things are quite as appealing when you've got small kids that you'd like to unleash to the world. Or at least to the skate park. And the eclectic, anything-goes neighborhood is all fun and games until your neighbor decides that their old sofa will now be seating in their front yard. Recently, several of our friends have moved out of this more urban area and into some of the surrounding "master planned communities." I've always disliked these communities, turning down my nose at them with the same superiority that I summoned to hate on the minivan. They're boring. Vanilla. Lacking in individuality. All of the houses look the same. All of the strip malls are comprised of predictable stores. Target, Chipotle, Panda Express, Subway. Wash, rinse, repeat. There's nothing interesting or creative going on. You can't even paint your house without getting approval from the city.
At the same time, as I've watched my friends thrive in this community, I also see the appeal for young families. These towns are BUILT with kids in mind. Streets are built to favor cul-de-sacs. Houses are built on walking trails or bike paths. Neighborhoods encircle the schools so walking is easy. Parks are plentiful. Public pools are on every corner. And if I'm being totally honest? I think the quality of life for kids is better there, because there is more freedom to roam. No doubt my kids would walk more places, bike more places, and have more freedom to play outside in one of these neighborhoods. But still, a little part of my soul dies at the thought of moving into a tract-house master-planned community. And then I think, why? Why wouldn't I move somewhere kid-centric for this season? Am I digging my heels in and staying where I am just because I want our date nights to be at a hipster Cuban joint instead of at a TGIFridays? Is that really what's dictating where I live . . . the desire to be near "cooler" things? I'm very conflicted about all of it. And granted, this is a major First World Problem. On the scale of actual life problems, this is pretty low. But still, I want to enjoy where I live, and I want my kids to enjoy our community. And I'm not sure we're enjoying our current location. So . . . I've been spending a lot of time on Trulia these days, looking at neighborhoods and nearby towns and trying to figure out if there is a spot with a perfect blend of kid-friendly features and individuality. Trulia has sponsored this post but I really do use it on a regular basis. I love that it can provide info on neighborhoods, schools, crime, and local amenities in one spot, so I'm not having to look at listing and then Google the neighborhood for info. And I have logged some serious time on this site in the past few months in the search for the right neighborhood for us. Of course, there is no perfect neighborhood. But I'm hoping we can find one that feels like a better fit. How did you decide where to settle down? Do you live in a more urban setting, in a rural setting, or in the 'burbs? If you have kids, did they play a big part in deciding where to live? And did anyone else find that their ideal neighborhood before kids became less-than-ideal after kids? The post was sponsored by Trulia.