What I Want You to Know is a series
of
reader submissions. It is an attempt to allow people to tell their
personal stories, in the hopes of bringing greater compassion to the
unique issues each of us face. If you would like to submit a story to
this series,
click here
. Today's guest posts is by Carrie.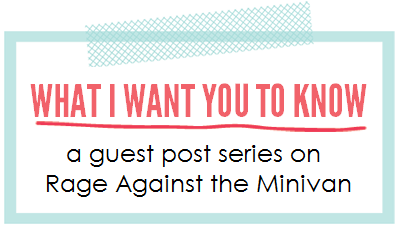 My husband and I started the process to adopt a child from China in
January of 2006. At that time, we were expected to wait about 8-12
months for a referral. While we were getting our paperwork together, the
process slowed down. We had no idea, 6 years later, we would still be
waiting.
In the beginning, the slow down was listed as a minor
hiccup, not to worry. It will pick up again soon. Ok, just a year from
now. That's all. No big deal. Just hang in there and it will happen. Not
to worry. Just one more year. Just one more year. Just one more year.
So, we waited and waited, and waited. We diligently filled out paperwork
and did a new home study every 18 months. And paid more money.
Over
time, our first agency went bankrupt and we were switched to a new
agency. The rules for both China and the US have both changed since we
started and everyone I talk to about the topic of what to do next has a
different opinion. No one can agree on anything.
Now, the latest
is that the US will not allow us to be grandfathered into the old
system any more. We've used up our last renewal. Which means if we don't
go to China and get home before our INS approval runs out, we can't
adopt from China. After all this time. After all this stress. After all
this money. And we are tentatively slated to finally be matched in the
spring of 2012. In all likelihood, we will miss the deadline by a few
short months. After waiting 6 years.
However, I also have to
admit, that after 6 years, I'm not so sure I want to adopt from China
any more. In the interim, we have been blessed with 2 children through
domestic adoption. We have always said we'd like 2, maybe 3 children.
So, should we stick with just our 2 darling children or expand to
include a lovely Chinese child too? I feel guilty about wanting this
child sooo much in 2006 and now I'm not sure. Life has changed a lot in
the last 6 years. I'm not worried that a child will go without a home as
there are so many people waiting, she'll just find a home some place
else.
People have asked us over the years why we haven't
switched to the China special needs program? Why are we still waiting?
Why haven't we moved on?
Initially, we just believed that our
referral was "just around the corner". So we stayed in line. Also, we
didn't know we could switch to the special needs program until about 2
years ago. By that time, we had our son and we figured that it didn't
hurt to stay in line, so we'd just stay where we were. And after much
discussion, we just didn't feel that the special needs program was for
us. This doesn't mean that I think the program is wrong or bad, it just
didn't meet our needs. We didn't make this decision lightly.
I
want you to understand that waiting for 6 years just kind of happens. It
wasn't something we planned or ever wanted. Time just passed while we
were doing other things.
I also want you to understand that I
respect everyone's decision related to adoption. Several times we, as a
couple, have sat down and discussed what kind of child we would like to
adopt. This is a weird conversation and you both have to be honest. What
do you feel like you can handle as person, as a couple, as a family?
Don't feel guilty if you don't feel you can accept a certain kind of
child. It is ok. I would never, ever tell someone to adopt a certain
type of child. It is a very personal decision. We have done what we feel
is right for our family.
Lastly, I hope that you understand why
I sometimes hope that INS won't renew our documents. After 6 years, I
am not sure I can take on the child that I have dreamed about for so
long. I'm not sure if I can be a good mommy to 3 children. I'm not sure
we can afford 3 children. And I'm not sure that I want to pay all the
money that we still need to pay so that we can have 3 children. Life has
changed. We are in a different place. We are unsure of what to do, but
ultimately, we will do what we feel is right for our family.