What I Want You to Know is a series
of
reader submissions. It is an attempt to allow people to tell their
personal stories, in the hopes of bringing greater compassion to the
unique issues each of us face. If you would like to submit a story to
this series,
click here
. Today's guest post is by an anonymous reader.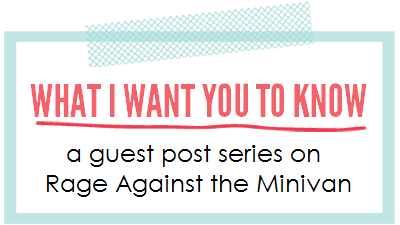 What I want you to know is that I am a single mom who reached out to my daughter's "other" family.
I
had a perception about what my daughter's father's family must think of
me and what they might think of her. I went into a relationship with
her father with good intentions, and I loved him. We dated on and off
for almost three years and for a variety of reasons did not get married,
and when things got tough for him, we parted ways. I think that was the
best decision for all three of us, even though he has very little
contact with our daughter.
My decision to contact my daughter's
paternal family came from a lot of different places. I had previously
met my ex's father, stepmother, and one of his brothers, so I knew them,
and they had been kind to me. I knew my daughter's aunt (her father's
sister) had two kids of her own, one just three weeks older than my
daughter. I loved the idea that she had cousins out in the world. And I
had grown up in my own big family, with many, many aunts, uncles,
cousins, and six siblings of my own. Family is a big deal to me.
After
months of pros-cons lists, anxiety, and worrying, I wrote a short message
to my daughter's aunt through Facebook. She was (much to my delight
and surprise) thrilled to hear from us, excited to be an aunt, and she
fell in love immediately with my sweet daughter's face, which closely
resembled her own and her daughter's (they all have these beautiful
matching blue eyes and cleft chins). And as we swapped pictures and
stories, we grew to know each other and care for each other, and she and
I became like family, too. Through that relationship, my daughter and I
got to know her grandmother and her grandfather and their families. My
daughter gained so much in love, in positive people in her life, and
I'll admit that I, too, gained an extended support system through this
new group of people who loved my daughter. Our "village" grew
exponentially overnight, and we were immediately blessed by these new
relationships.
I know lots of relationships between parents and
grandparents become strained in the relationship between the parents. I
know a lot of times, the best thing in cases where one parent gets sole
custody is just to cut ties with the other parent's family. I don't
think one way can always be better than another, but I can tell you
that, in our case, having more grandparents and more aunts and uncles
has only been positive.
What I want you to know is, sometimes,
it's possible to build these relationships for your kids, to mend
bridges, to set aside anger and fear and let love for little people bind
you. Even if you don't even have to have much of anything else in
common.