Since we are traveling right now, I thought I'd go with a travel-related question: If you could have a free round-trip to any one place in the world, where would it be?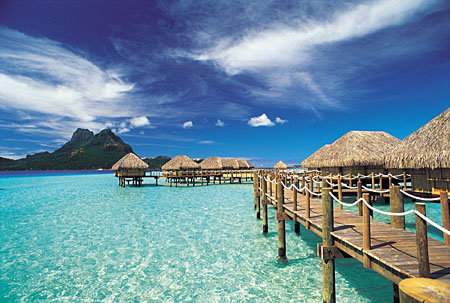 I'm gonna go with Bora Bora. I've never been, and it just seems like one of those places that is so insanely beautiful that you are profoundly moved just by the scenery. I'm a fan of gorgeous beaches and warm weather, and Bora Bora seems like the perfect tropical spot, where relaxation is inevitable. The white sandy beaches, crystal clear water, and thatched-roof huts are calling my name. (I picked Bora Bora because I've never been there, but Cinque Terre, Italy and Cape Town, South Africa are at the top of my list in terms of places I'd like to revisit.)
How about you? What locale would you love to visit? And are there any spots you are dying to see again?