Despite the fact that I've taken a
Rage Against the Homework
philosophy for young children, I do really believe in providing a variety of educational experiences for kids at home. We've done our best to recreate a
Monstessori environment in our playroom
, with a variety of educational toys that our kids enjoy. I have to say, though, that it's the iphone and ipad that provide the most educational motivation for my kids.
I've found some really amazing apps for my iphone that help reinforce what the kids are learning at school. At our house, we have an ipad, and we also have two iphones (the one I use as a phone, and an older model that is no longer activated but can still get apps via wifi). The kids are constantly asking to play on them . . . and since we use a timer and have mostly educational games, I feel pretty good about our moderate use of technology as a teaching tool.
Over the next few weeks, I'm going to share some of our favorite educational apps for different developmental levels. Today, I'm sharing my favorite apps for the preschool set. Next week, I'll share my favorites for the kindergartners.
First things first, though: if you have a toddler or preschooler playing on your iphone, I highly recommend some kind of a screen protector. I really like the Fisher-Price Laugh & Learn Apptivity Case. It's nearly indestructible and has a barrier allows kids to use the touchscreen without sullying it with food or slobber.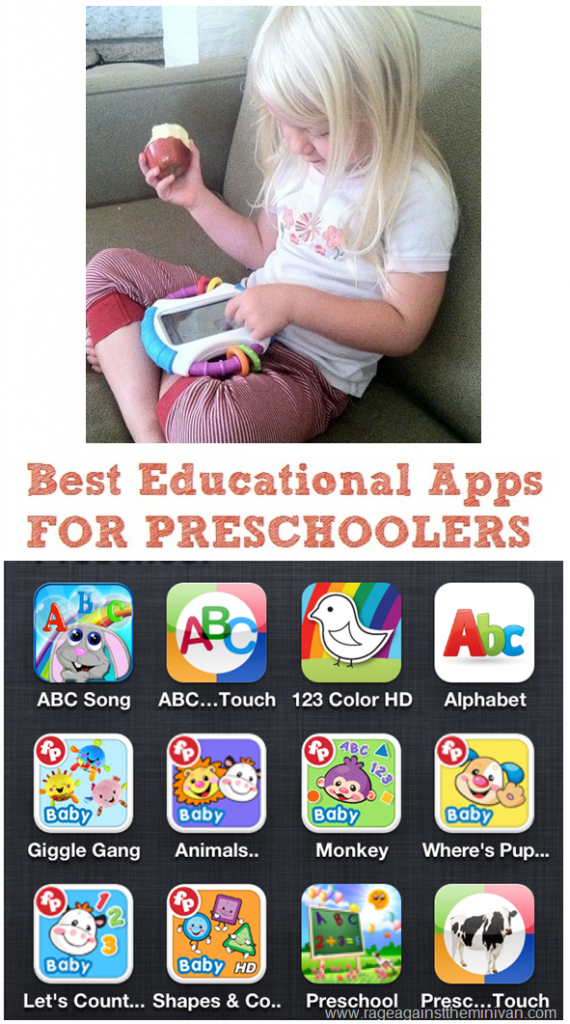 The ABC Song app is a simple musical app that teaches kids to sing the alphabet song. It also has a matching letters game, and a letter bubble pop game. Great for letter recognition.
PhotoTouch ABC is a quiz game in which kids touch a letter based on recognition. It's a great way to reinforce letters.
123 Color HD is a painting game that helps kids learn colors by announcing the color they choose.
The Alphabet game from kindergarten.com reads flashcards to kids, with letters and corresponding words.
Fisher Price has a number of FREE apps for preschoolers to help orient them to using a touch screen, and also to reinforce shapes, colors, and counting. Some of our favorites are Giggle Gang, Animal Sounds, Monkey, Where's Puppy, Let's Count, and Shapes and Colors. These apps can be used alone, or can interact with Fisher-Price Laugh and Learn Apptivity Monkey.
The Preschool 15-in-1 app has a number of learning games, including basic words, learning to write, and learning animal names.
The Preschool PhotoTouch Farm Animals app quizzes kids on animal recognition. It's great for memory, but also helpful for learning the touchscreen.
These are some of our favorite apps for Karis. Do you have any great app discoveries for the preschool set?