What I Want You to Know is a series of reader submissions. It is an attempt to allow people to tell their personal stories, in the hopes of bringing greater compassion to the unique issues each of us face. (If you are new to this blog, regularly schedule programming will resume after the holidays, but you can check out the "Best Of" section in the meantime). If you would like to submit a story to this series, click here. This guest post is by Tiffany Pate.
What I want you to know about miscarriage. At 25 my husband and I found out on mothers day that I was pregnant. I had woken up at 6ish that morning stumbling into the bathroom, I hardly remember opening up the packing of the pregnancy test. Next thing I know there are two lines, running into the bedroom, literally kicking my husband yelling at him telling him to get up. "Get up, I'm pregnant, and going to store." I said. He said "huh? what? okay, wait why are you going to the store." He confusingly replied. "Did you not hear me" I quipped back. "I'm pregnant, I have to go to the store and get another test to make sure". I know, it was a crazy thought process. But, I was told at 22 that I wasn't going to be able to have children after a bout with cervical cancer, so another test was needed. Honestly by the end of the day 6 test were needed. I thought I had my fairy tale ended. I know I radiated with joy that day. Here it was Mothers Day and I found out that I was pregnant! I couldn't have written a better story! Little did I know that just 2 weeks later everything would be pulled out from under me. That two weeks later, I would be laying on the couch in more pain than I have ever been in, or have been in since, sobbing, trying to grasp that I had to say good bye to my baby. I was so devastated in a way that words just can't be formed. It's a kind of devastated where breathing hurts, thinking is impossible, and your days become a blur. Little did I  know I was going to get pregnant 2 weeks later. A pregnancy that I carried full term and now have an adorable, wildly curious one year old little boy. The doctors had said that since I had carried full term they seriously doubted I would miscarry again.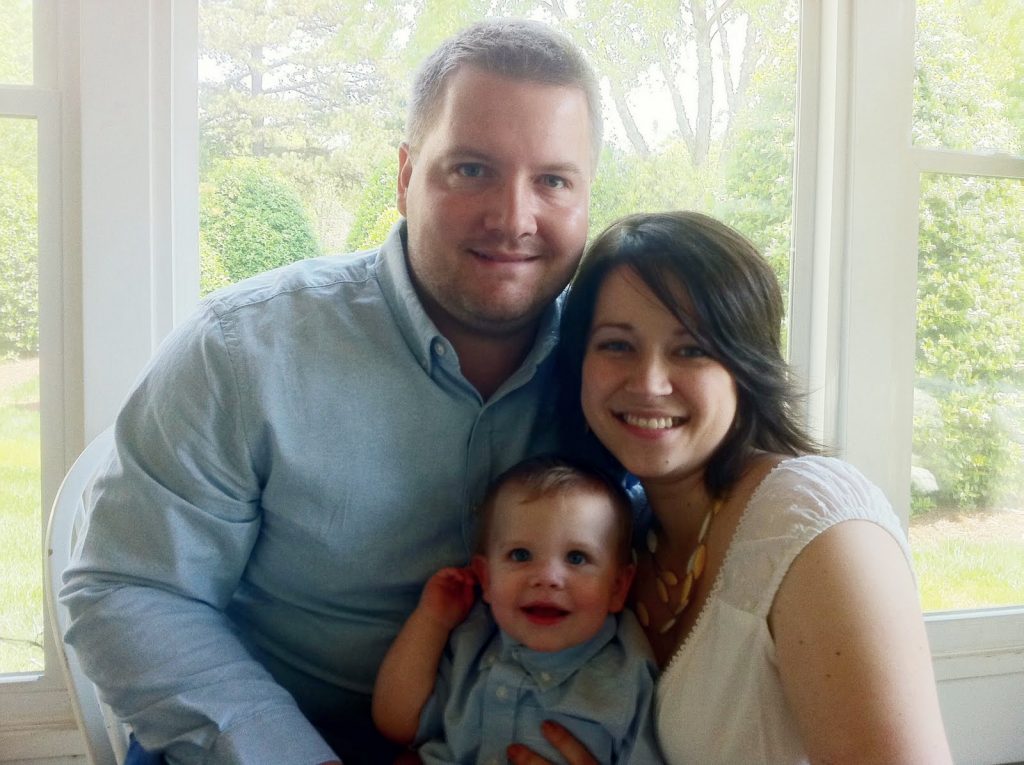 They were wrong…. February of this year, I found out I was pregnant. Totally blindsided but so over happy! We packed up the baby man and headed to the doctors a few weeks later. We went in as soon as we could because I didn't know how far along we were. We when in and saw the little baby, heard the heart beat, that wonderful quick thudding noise, the noise that catching you in your throat. The noise that dreams, well mommy dreams are made of.  Everything look great with the baby, so the twitter pictures were flying! Pictures of the Baby Man holding the ultra sound of his little brother/sister, pictures of me holding the ultra sound. The pictures of me holding Baby Man and the ultra sound were my favorite. We scheduled an appointment for 4 week later to have our officially first prenatal appointment. We knew there was going to be some poking and prodding that time so my mom watch the Baby Man.  When we went in the nurse couldn't find a heart beat, and started asking me about a titled uterus. I knew in that moment that my worst fears were happening.  After sending two more nurses in, trying a ultra sound machine, they went in vaginally and found the baby. Measuring only 9 weeks, with no heart beat. There was my baby on the screen, the perfect side profile of a little one, but wasn't there anymore. How was my baby gone? How did I had not know? The hardest part of it was how others just made it worst. People say things that really just don't help. Telling a mother that you think there was something wrong with the baby, doesn't make anything better.  No mother wants to think there is something wrong with their baby. Telling a mother that they can just "try" again just belittles the life that you lost. Once we found out that our child was missing a gene, telling a mother that "well good thing you lost the baby, could you imagine the medical issues and bills?" Really? Your glad my life was going to easier. I don't want my life to be easier, I want my baby. Telling a mother "Baby Man is such a hand full, could you imagine how busy and tired you would be if you didn't miscarry."
Telling a mother "Everything happens for a reason." Really? Then what's the reason? This is what I know. Saying anything to help, doesn't help.
Tell me it sucks, tell me you want to cry, heck cry with me, don't try and fix my pain.
Sit with me, hold me hand, hug me, those are all good things. Words aren't as powerful as actions. Act. Bring some one dinner, tissues, and flower, a card, pray, do something. Listen. Listen when I want to talk, you don't have to respond just listen. Know that this doesn't make me a freak. That I'm not the only one this has ever happened too. Know that it happens way too often. Don't look at me like your waiting for me to break. Don't handle me with kid gloves. Just be kind and loving. Think before you say or do anything. Many times, all of us, react before we put thought into what we're doing. Those are the times that when some one is in pain that you hurt them more. Know that no matter what I will have to live with this pain. That I know have new hopes and dreams for those children, that my children that I lost are still in my dreams, my hopes, and my prayers. That they don't just disappear.  They, no matter how short of a time, have made an impact on our lives. So don't try and 'speak' that way.