I have taken an obscene amount of photos over the past five days.  I have lots to say about flying with our four kids for the first time, and the subsequent 8-hour 3-family road trip, but I'm just give you a teaser because I have previously-taken photos to post, and I don't want mess up the time-space continuum by posting out-of-order.  So, I leave you with this little spoiler alert:
it was both better and worse than I thought it would be
there was puking
there but by the grace of Glee and headphone go I
Also, I feel like I should note that many concerned friends have chided me for posting online about going on vacation.  I guess I am practically inviting people to come rob our empty house.   So, I will offer the same open letter to criminals that I offered last year,  Except, for full disclosure, we have upgraded our floors since I wrote that.  But I don't think they have a very high street value.  And now comes the part where I barrage you with photos from Christmas Eve.  And not just this year!  I have nostalgic and self-indulgent older photos to post, too!  (Now might be a good time to go see what's going on at MamaPop.) Still here?  And ready to take a stroll down memory lane? For the last ten years, we've had a Christmas Eve breakfast with the same four couples. It has become a tradition I look forward to every year, and this year even Jafta talked about how it would be the way we start our Christmas festivities.  I am rarely a sentimental person, but looking at these photos over the years always gets me a little misty, both for my own family, and for our friendships. Here we are in 2005, back when the skinny jean sounded like a cruel joke and we were taking pictures with film so we didn't know if someone had their eyes shut in a photo until we got the roll back from Costco.  It was our first Christmas as parents.  Then, on the right, fast forward to two years later.  Another kid (but still rocking the low-rise boot cut).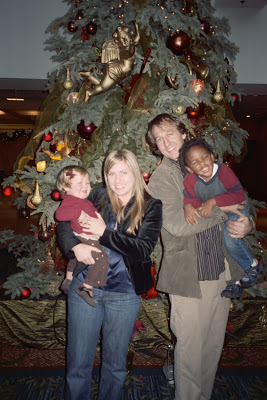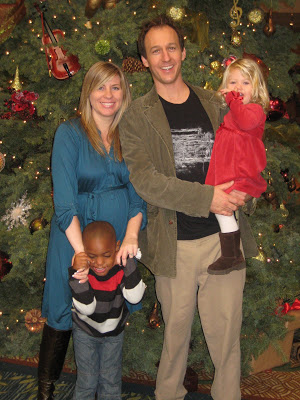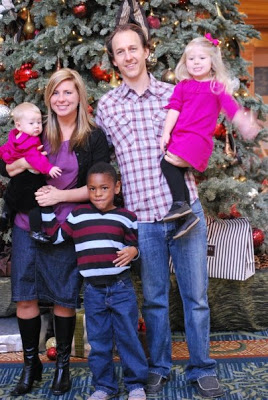 The next Christmas, I was pregnant and finally invested in a digital camera.  The next year, Karis arrived, Jafta rocked a faux-hawk, and I changed the direction of my part again. 
  And finally (and obviously), this year, we are thrilled to have our family complete.  I love this picture . . . even though Kembe is wearing the fakest smile ever.  And even though I am wearing the same jacket that I wore in 2006. And here is the progression of our group photos.  Clearly, we have all invested in better cameras over the years. 2002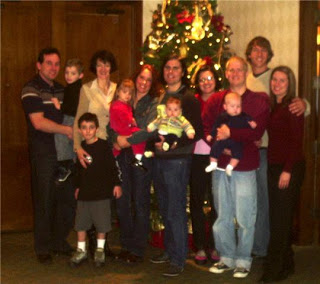 2003
2005
2008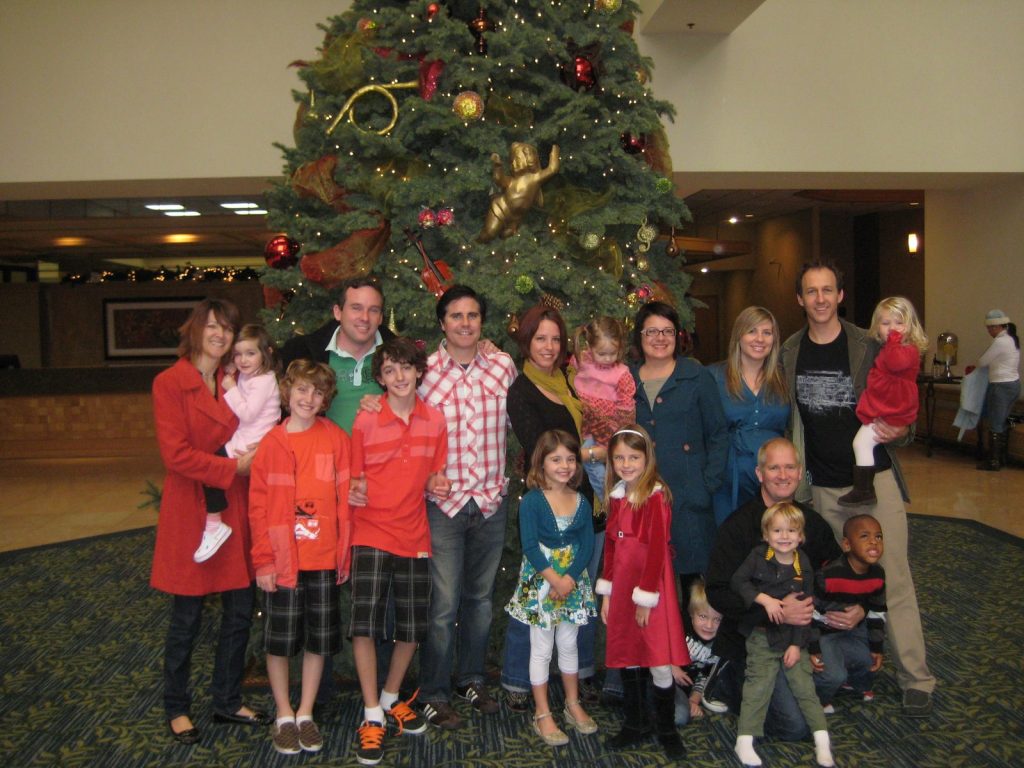 2010
We had a great Christmas Eve morning with our friends, and felt a sense of gratefulness that our table represented the completion of each family.  In part, because Kembe was home.  And in part because I just don't think we could fit another child at the table. 
After breakfast, Mark dropped me off at home and took the kids on our other Christmas Eve tradition: taking food to a group of homeless people at a nearby park.  Since we were flying out in the wee a.m. on Christmas day, we needed to have Santa come early. 
Meanwhile . . .
To be continued . . . .