I am a fan of the destination birthday party.  After years of throwing my kid's birthday parties at our house, I made a discovery: having a party at my house costs me twice as much as a destination party.  (A large part of this is due to the fact that I tend to go into frantic remodel mode anytime I have a big group of people over, and a simple birthday party suddenly means repainting the bathroom and re-landscaping the backyard.)  But beyond my own perfectionism issues, I also hate how hosting a party causes me to be too busy to just enjoy the experience with my kids.  In the past, I've found myself running around refilling ice or passing out cake or trying to lead the kids in games . . . only to feel like the whole party passed me by in a whirlwind of activity. So this year, I decided.  No more parties at home.  I need to outsource the birthdays.  (Or bring cupcakes to the park and pretend it's a party.  That also works.) I think it goes without saying that I was elated for Kembe and India to finally celebrate their birthday together.  This birthday has been a hard day for the past three years, and I really wanted to celebrate our family being together, too. In the past, we've done the bouncehouse birthday place, we've done Build-A-Bear, and we've done Medieval Times.  But for the twins, I wanted to find a place that could really pull off a fun birthday for both genders (because India was insistent that there be some kind of princess theme).  Earlier this year I attended another child's party at Bears, Buddies, and Toys in Huntington Beach and it was such a cute place, we decided to go there, too.   They have many theme party options, and my kids choose to have a princess and knight party. l
The party started with all of the kids getting into costume.  Kembe was a bit more excited about the sword than the actual knight costume.
They even had little princess dresses for the toddler set.  SO CUTE.
I'm not sure that Kembe totally understood that the goal of a knight is to protect a princess.  He spent a good portion of the party trying to slay them.
The girls loved getting dressed up.  There were tiaras and wands for each little princess.  (Though Timory decided to rock the boa).
Jafta was loving his knight costume. 
He was NOT loving that it was Kembe and India's birthday party and not his.  LIFE IS SO HARD.
Bears and buddies did a great job of keeping the kids entertained.  Their party packages include two princess hostesses who were SO great with the kids, and really allowed the adults to enjoy themselves more, too.
The party started with a story time in the library.  While that was going on, I slipped out to take some pictures of the "fireside room". 
I was thrilled to get our cupcakes from Once Upon a Cupcake.  This gal is so talented.  I have been reading her blog for years and always marvel at the creative things she can do with cupcakes.  And I am here to tell you: they taste as good as they look.  Two words: CARROT CAKE.  With cream cheese frosting.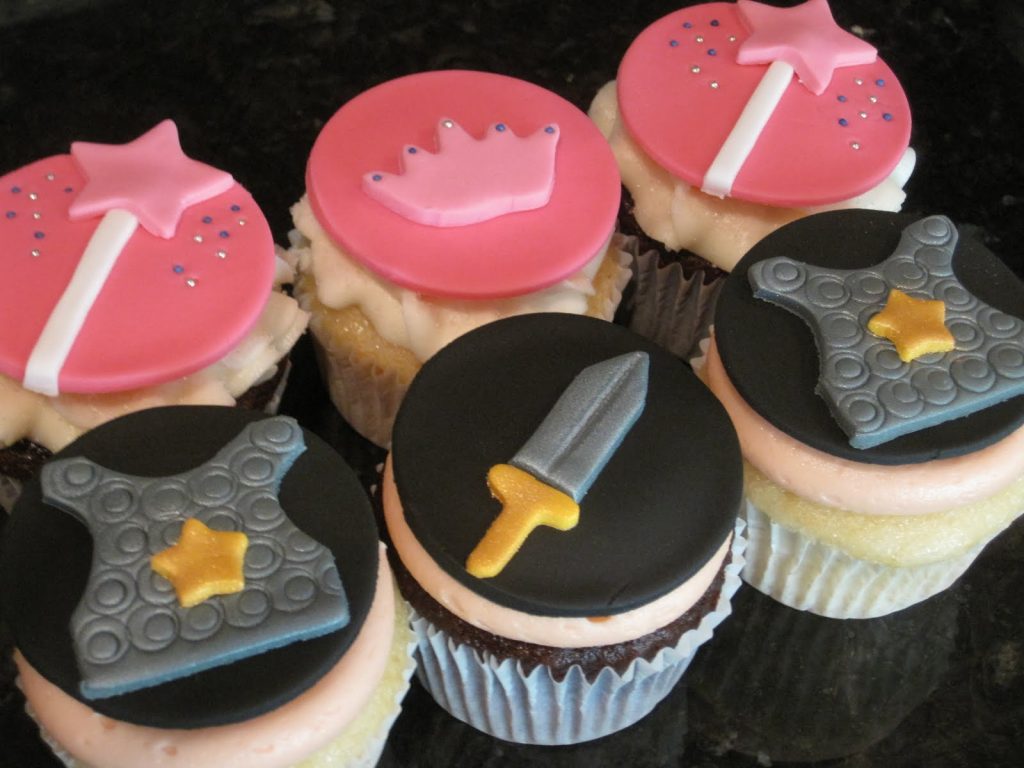 And yes, those other accent cupcakes are cookies & cream.  Hello, delicious.  I might have had two.
Knudsen generously provided us with organic fruit drinks for both kids and adults.  I love their Sensible Sippers brand – it is a juicebox with 50% organic juice and 50% water.  I'm also a fan of the mint Sparkling Essence (which is the perfect base for a homemade mojito after the kids are in bed – just sayin'). 
After storytime, the kids each got to choose a stuffed animal to make.  Here is India getting the stuffing in her new pet poodle.  (It was a little loud.  Can you tell?)
Kembe picked a dragon.  I'm not sure he understands the knight concept, since he was cuddling a dragon and trying to slay princess for most of the party.
Our hostess lead the kids in some games in the library.
And then it was time fro a dance party!  We love dance parties.
Finally, cupcake time!! 
After the party, our royal couple stepped out to give a curtsy and a bow, to thank their loyal subjects for coming.  
What a fun party!  Thanks to Bears and Buddies, Once Upon a Cupcake, and Knudsen for the promotional consideration for the OC Family website.  And thanks to our family and friends for helping us celebrate this special day in our family.