In my life, I've had a couple variations of recurring stress dreams. One involves me being unable to find something right before a big event (it's my wedding day and I can't find a hairdryer, it's time for prom and I can't find my dress, etc). Another recurring dream involves me finding out that I am failing a class (in college I took an anthropology class where you could skip the final if you got 100% on the midterm. I did, and then I skipped that the class for the rest of the semester. My subconscious has never let me live that down). The other recurring dream involves me humiliating myself in front of others.
My weekend at Blogher 2010 was an amazing experience, and I am so glad I went. But a good portion of the conference felt like some surreal stress dream where I planned and planned and yet everything that could go wrong, did.
It started with the plane ride on Wednesday, which got a little bumpy over the middle of the country. I should mention, I decided to make the flight from LA to New York on the "party plane" – dubbed as such because there were about ten other bloggers on the flight. Everyone else was talking and laughing and drinking. But being the queen of motion sickness, my stomach starting letting me know that it wasn't so happy. About an hour before we landed, I was struggling to keep my breakfast down. And then suddenly, I lost the struggle. Numerous times. In front of ten other bloggers I had just met.
Let's just say I don't think I won the First Impression Rose that day. And thank God for Virgin America's generous supply of seat-front vomit bags.
After the flight, I hopped in a car with Linda and Donna and tried my best not to have any more public displays of puking. I had one overwhelming thought on that hour car ride into Manhattan – I WOULD LIKE TO STOP MOVING. When we arrived at the hotel I had about an hour before I needed to meet up with some other bloggers that I had arranged to see Broadway shows that evening. All I wanted to do was lay down – but I knew I needed to get some food in my stomach, get an Alka-Seltzer, wash up a bit and get going. So I threw my suitcase in the room, brushed my teeth, and then set out to find a pharmacy and a deli.
What happened next is where the stress dream feeling really kicked in, because it was a comedy of errors trying to get all of those tickets to their rightful owners. I needed to be a four box offices at once, and it felt like an Amazing Race episode in Times Square. When I finally got everyone their tickets and sat down in the theater to see Fela, I was really ready to fall asleep.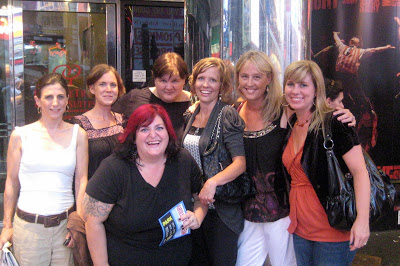 Jessica
, Lori,
Cecily
,
Deb
,
Heather
,
Ellie
, me
Fela, though. What an amazing show. It was exactly what I needed. An avant-guard play about a Nigerian musician, full of amazing African music and dancing, and with a social-activist message. I was loving it.
After the show, several of us met up for fondue. Because really, what better way for women to bond than over melted cheese and chocolate? I began to witness some of the rumored Blogher drama as the group of us struggled over which cheese to choose. There was a lot of ego involved in deciding between the Swiss or Cheddar. Specifically, one blogger tried to pull rank because she had the most twitter followers, but then another gal insisted that she have her way because she had a better Technorati score. Ultimately we went with a face-off between everyone's Alexa rating, and that moment in time will forever be known as the great Blogher '10 Fondue Feud. Or #fonduefeud, if you would like to join the debate.
(Actually all of these ladies were perfectly lovely and we had a fabulous time. And ordered both types of cheeses with very little fanfare beyond stopping our chatter long enough to acknowledge the waiter.)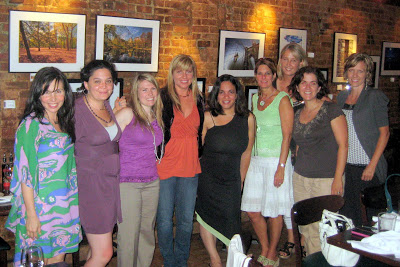 I was so tired by the end of this long day, but somehow found myself wide awake when I arrived back at my hotel room at 1am. Hello, pacific time. After a couple breathing exercises Ambien I finally fell asleep, and that wakeup call felt early. On Thursday morning I had an appointment with David's Bridal to choose some cocktail dresses for the Blogher parties. It was a lovely experience all around – their reps were great, the dresses were adorable.
PS I love that little silver number and think it looks very Mad Men/vintage, and had to laugh when they told me it was a mother-of-the-bride dress. I only hope I can wear something that cute when my kids are old enough to be married.
Thursday afternoon my roommate Christine arrived, and we got to chat a bit before heading out for the SocialLuxe party. Even though it was 24 hours after I my flight, I was still feeling nauseous, and put very little effort into my appearance for the second night in a row. Those perfectly planned dresses with matching accessories and shoes for both Wednesday and Thursday night? Yeah, those never happened. Both nights I found myself stumbling into a social situation hoping I'd remembered to brush the knots out of the back of my hair.
SocialLuxe was a blast. It was fun to be nominated for an award and hear my name called out at the party. As I foretold, Jenny (The Blogess) won. I had hoped to meet her, and use my defeat as an "in". I imagined myself pretending to be outraged, but then giving her a little nod and a wink to let her know I'm just joshing, after which she would throw her hands up and shrug her shoulders and hug me and become my best friend forever. Weirdly, none of that actually happened. But I did see her from across the room and she seemed darling.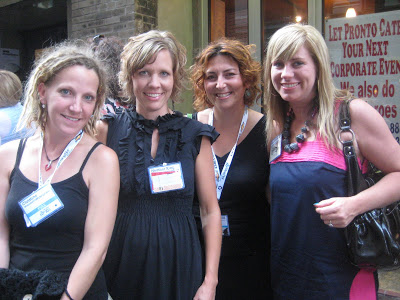 After the SocialLuxe party, we went to the Nikon party, a tasteful little rooftop affair where a bevy of buff calendar models were hired to chat up a room full of female bloggers who spend most of their time wearing pajamas with a computer on their lap. The firemen worked the room – chatting us up about our lives and our work, pretending to be earnest about wanting to understand what this blog thing was about. "You ladies look great tonight. Where are you from? So, a blog. Is that like a chat room?" It was a scenario that I found hilariously awkward.
After the Nikon party, we went back to the hotel for some of the official Blogher parties. I was getting tired but then I got a call from one of the gals from our Grown In My Heart writing team. They were all gathered in one of the rooms, drinking wine. We had never met in person before, but I could hear their laughing all the way down the hallway. We ordered pizza and chatted into the night.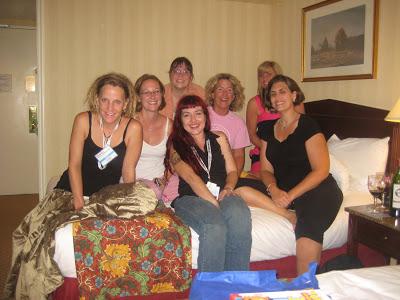 Well, this story has gotten awfully long and I'm only up to day 2 in New York. I'll have to wait until tomorrow to describe the ways I felt like I would have gotten an F in Blogher, if we were being graded – and some other assorted mortification. For now, time to go hop in a hotel pool with four eager children who cannot swim. Fun.
*Let me leave you with a little video some of my OC Family peeps made. There was a hilarious twitter hashtag brewing while we were in New York: #homeher10. Sick of seeing all the #blogher10 tweets, a couple funny folks started tweeting about being homebound for the weekend. And then Suzanne, Foolery, and Marcy made this mockumentary gem.