We got back from New York last night. It was a whirlwind, and I think it will forever be dubbed our Ultimate Date Night Weekend. We got in around 10pm on Tuesday night, and The View had a driver to pick us up. Having our own driver made us feel very self-important. We tried to work the phrase "our driver" into as many sentences as possible over the weekend. i.e. "Should we have our driver drop us at the restaurant?" "Do you give the driver a call to tell him we're heading down?" . . . and so on. I think it really gave people the impression that we were a big deal . That, and the map and the camera hanging from my neck.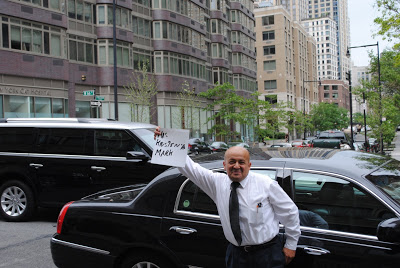 Even though we got in late, we hit the town. We headed down to the Meatpacking District which, despite it's nausea-inducing name, is quite the hipster neighborhood. We sat on the patio at The Standard, had dinner at Olive + Fig, and then went to desert at Spice Market. The whole time, I had two overwhelming thoughts: 1) I am having the time of my life, and 2) I should really go to bed so I don't have bags under my eyes on tv. But alas, it was a beautiful night and we were in the city that never sleeps, so we didn't. We walked to Union Square, and then grabbed a cab to Times Square. We finally got back to the hotel in the wee hours, and that wake-up call came early.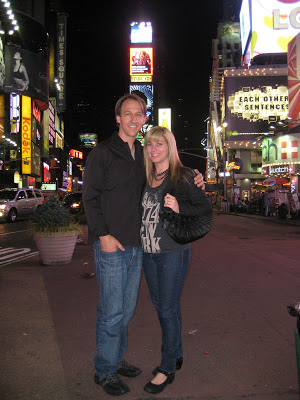 The next morning, we were picked up by our driver (see how that works? impressive, right?) and went to the studio. We had a quick briefing, where we found out that *surprise!* Mark would be on camera, too. We talked very quickly with the producer and then went into hair and makeup, where an enthusiastic makeup artist applied the most heavy makeup I've seen on my face since Prom '93.
I kept asking if it was maybe a bit much, but he explained that it was on account of the high-definition. Which didn't make sense to me, because it seems like more definition would require a more natural look. But he assured me I would look natural on-camera. Here's a picture taken with a camera. What do you think?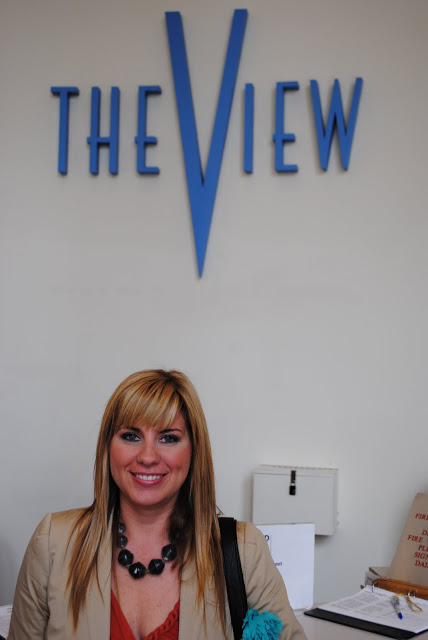 I know. Totally natural. Um, let's hope it reads different on screen. (By the way, the necklace? Made of recycled paper by women in Uganda. Check out 31 bits and the ways the are bringing financial independence to women in Africa.)
After makeup, things moved very fast. We were taken to the greenroom, where I met Kyra Sedgewick, who is a tiny, tiny, miniature person. They brought us out for our segment, and we were seated at a table with Bryant Gumble, Sheri Shephard, and Valerie Bertinelli. Suddenly, we were rolling. A representative from the Evan B. Donaldson Institute was there, and he started with giving some great information on international adoption. I liked what he had to say. Then they asked us about our story, and I shared about adopting Jafta, and what lead us to adoption from Haiti. I was feeling pretty comfortable. I think I rambled a bit, but I at least wasn't white-knuckling the sofa or feeling the need to pee myself. Sheri Shepard asked what it was like to be white parents adopting black sons (which I knew would be a question, and one I really wanted to address). I answered by saying that it has forced us to be more intentional in moving out of what feels "safe" by trying to be involved in the African-American community. But as soon as it came out of my mouth, I realized it was a bad choice of words to describe our efforts to get beyond our insular white community. I think I managed to backpedal a bit and say something like, "and by safe, I mean getting out of our comfort zone", but all I could think about for the rest of the segment was OH MY GOSH I JUST CAME ON NATIONAL TELEVISION AND IMPLIED THAT INTERACTING WITH MINORITY COMMUNITIES FEELS UNSAFE. Seriously, that is all I could think of until commercial break. Words were still coming out of my mouth, but the only thing going on in my mind is that I just said something potentially racist. Nice.
And then, suddenly, they were cutting to commercial, and I realized I had nervously chattered so much that Mark had no chance to talk (although, to be fair, he hadn't been planning on it), and that I hadn't gotten in so much of what I wanted to say. I'm sure we totally look like that couple where the wife does all the talking for her wallflower husband, which is funny since Mark is the extrovert and he is the one usually chatting it up with the people in line at Target while I hide behind an Us Weekly.
After our segment, we sat in the audience for the next adoption segment. Valerie Bertinelli and I had a little moment, where she was giving me a thumbs up and mouthing to me that I had done an amazing job. She was really sweet. After the commercial break they had another couple and a single woman who had adopted from Guatemala take the table, and they talked a bit more with the guy from the adoption institute. That also flew by, and the single gal was only able to say a few words, too. I'm glad they did a segment on adoption, but it was definitely too short to really get into all of the issues.
After those two segments, we were escorted out and picked up by our driver (again, we're a VERY BIG DEAL). We had a couple hours to kill before our flight, and we were determined to pack in as much New York as possible, even though by this point I was so tired that I could have laid down on the street and taken a nap.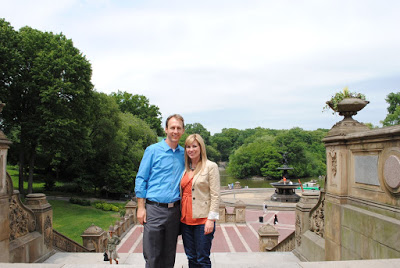 We took a relaxing pedicab ride through Central Park. Then we went and had a late lunch at the Museum of Modern Art, with a beautiful view of the sculpture garden.
We hustled through the museum, taking photos of ourselves with the artwork that is in one of our kid's books. It's called
Seen Art?
, and it's about looking for a friend named Art in the MoMA. I think they will be more impressed with these photos than the fact that we were on TV.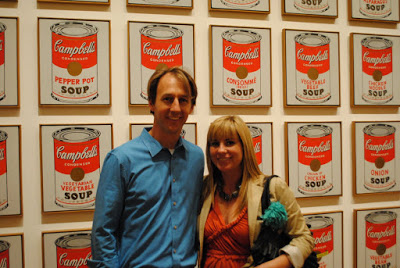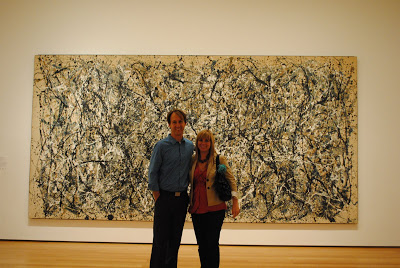 After the museum, our driver (okay, I'll stop now) picked us up and we headed for the airport. Both Mark and I dozed for the whole ride. We were exhausted, but we made the most of our weekend, and had an amazing time. It was so great to get away just the two of us, and even better that it was in a city that holds so many fond memories for us.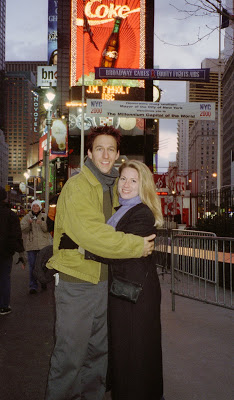 (1999)
We will be on
The View
tomorrow. I'm as curious as anyone to see what I actually said. And a bit nervous. Also, really hoping that makeup artist knew what he was talking about, and that I don't come off as a heavily made-up prostitute with bloodshot eyes.