This post is in partnership with Warner Bros. Pictures.
We've all been there – your kid shows a passion for something, and you go to great lengths to make their dreams come true. Whether it's overpaying for a space-themed summer camp or lining them up for drum lessons with the local rock-star teacher, we've all gone to extremes to try to be the hero for our kids.
There is a new movie with Will Ferrell and Amy Poehler (HELLO two of my favorites) that explores this very theme . . . the lengths we will go to in order to make our kids' dreams come true. In
The House
, two parents set on sending their daughter to the college of her dreams, only to discover it is way beyond what they can afford. They set about to raise the money in some unorthodox ways, and hilarity ensues. I can't wait to see it. The movie opens June 30 nationwide.
I usually tend towards the "good-enough mom" role. I'm fine being a bit of a slacker. I don't need my kids to be stars, and I don't feel the need to buy them the latest and greatest stuff. They still lament that their iphones are ancient and our Wii is first generation. But my weakness is when my kids show an interest in theater. I'm sure this is in large part due to the fact that it's also a passion of mine, so I get all sentimental and excited that they share it, too.
I saw Hamilton in New York when it opened, with the original cast. As I was watching, I started thinking about how much I wanted my kids to see it. My daughter Karis was 6 at the time . . . a bit too young. But we started listening to the soundtrack and immediately, she was hooked. She started begging to see the show. She memorized the soundtrack. She poured over the photo book. She was obsessed.
Soon after, the whole world became obsessed, and tickets were sold out as soon as they went on sale. So last summer, when several months of seats were released on Ticketmaster, I decided to go for it. I got tickets for her 8th birthday in April – almost a year after I bought them. I got a ticket for her sister, too. I held the secret for months. I told them on Christmas morning. And I booked flights to New York . . . totally knowing that this was overboard, but also thinking that this would be a dream-come-true.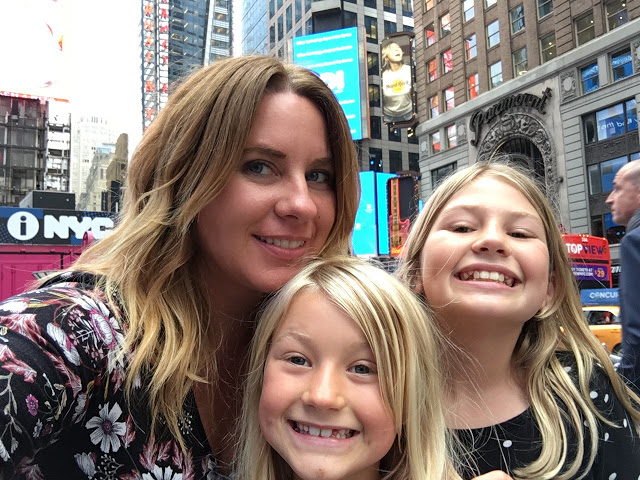 We flew in the night before the show. Our plan was delayed, which landed us in New York in the wee hours of the morning. We made our way to our hotel but got very little sleep that night. And I started to panic that they would be too tired for a play that starts at 8pm and ends at 11. What if they fell asleep during this show I'd invested so much time and money into seeing? With these fears in mind, I made both girls take a nap before the show. They fell right to sleep, so they clearly needed it. Except . . .
When I woke Karis up from her nap, she was drunk-tired and crabby. She wanted to stay asleep and wanted nothing to do with Hamilton. She was confused and deliriously tired and OUT OF HER MIND. I had a daughter kicking and screaming about doing the very thing we flew to New York to do. And I realized . . . I'd gone too far. I flew too close to the sun. This experience was too much for an 8-year-old.
She was angry and wanting to go back to bed the entire way to the theater. Forunately, just as the play was starting, the grogginess wore off and she was back to her usual self. She enjoyed the play, and didn't fall asleep. Crisis averted. But still. If she hadn't pulled it together, we would not have been able to see the show at all, after all that planning.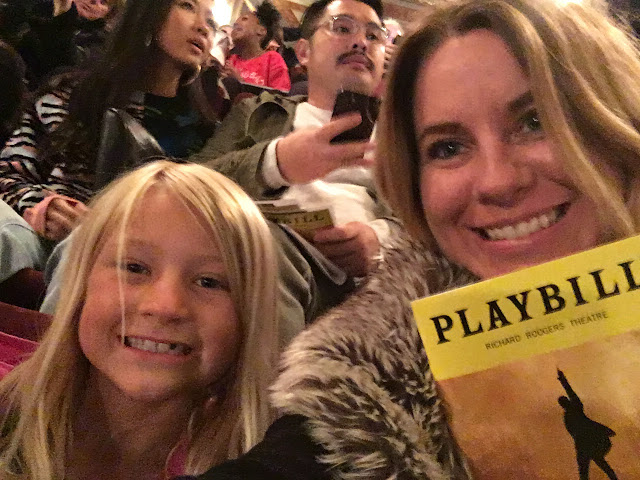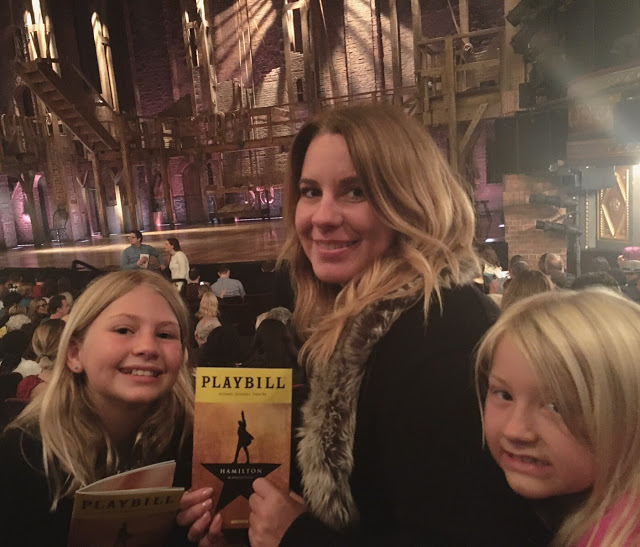 Hopefully I've learned my lesson, and I won't feel the need to engage in illegal activities to get my kids into the college of their choice, or any other such nonsense.